About bows full of respect, a ban and fascinating impressions in Seoul and at the North Korean border
Everything starts as planned.. Well, not everything — My journey begins with 2,5 hours of boredom, waiting on board the plane in Munich. However, just as I begin to feel the grey hairs forming on my head, the Lufthansa-aircraft finally starts its flight to Seoul. About time!
Arriving at my fifth Olympic Winter-games, host country greets me with a level of friendliness and warmth I hadn't quite expected. Sure, the crowd of locals that welcomes us with chants, flag waving and high fives is staged. "Where are you from?" one asks. "Austria," I reply, and immediately they start cheers of "Austria, Austria!". Perhaps staged, but certainly heartfelt nonetheless. Throughout the following four weeks or so, I come to find that the South Koreans are indeed very friendly people.
I nearly get used to the little bow they do to show their respect to you. I like this kind of humbleness. I can't even remember hearing one loud word from a local – neither during the Games in Pyeongchang, nor later in the enormous Seoul. In the "land of the morning silence" even loud honking in a metropolis seems to be the exception of the rule.
After 24 hours of traveling (even the transfer from Seoul to our hotel in the Olympic region takes another three hours), we move into the apartment and we have our first Korean dinner. Little do I know, it will be the last for a while. On my first full work day I visit the Olympic village, collect a few impressions as well conduct interviews with some athletes. And it is here that I hear for the first time that "norovirus" has started to spread within some members of the security staff.
I have quite a few stories to write after the visit and therefore there don't have much time for a second dinner. And I would not have kept it for long anyway, because in the night it comes: the combination of diarrhea and vomiting. Even though some Austrian doctors who I ring up suggest the opposite (they deny it could be the norovirus), I drive to the hospital. Already dehydrated I get an infusion and also a test for NV. 24 hours later I receive written confirmation, that I did, in fact, contract a "mild form" of the disease.
The worst symptoms are gone after one day, but fatigue and a lack of concentration continue to influence me for the next few days. In addition, I come to find out that it is very difficult to get a special diet in a foreign country like this. Rather than going to the venues, I work from the hotel for the remainder of the week. Besides the weakness, the decision is also out of the responsibility for the athletes whom you don't want to infect. So in the next days I have to write stories also based on sent audio files. Not how I imagined this Olympic trip, but what can you do?
It takes till Monday after the incident before I dare to move "out in the fields" again –  I am not contagious anymore. Yet, I am banned from the Austrian House, where they do all the preview-press conferences as well as medal parties. And this will not change till the end of the Games, but I am permitted to go everywhere else. Even the South Korean president holds a speech just a few meters away from me in the Main Press Centre.
My contact with the athletes therefore takes place where they are the most important anyway: in the middle of – or after – the fight for medals. The decisions for the competitions I was covering, such as ski-jumping and biathlon, are mainly made very late on account of them being evening competitions. And all this in cold, icy winds — especially in the first two weeks.
After this, you have to catch a shuttle from there to a bus hub, and then transfer to yet another bus which takes an additional 45 minutes to my hotel. Arriving back in the apartment between 2 and 2.30 a.m. is nearly daily routine. The bus rides are sometimes amusing, though: every driver treats his bus like a special thing. Colorful curtains combine with vibrant lights on the ceiling to almost  make them look like art pieces. Nearly every bus also has a sound system included. In a country where citizens are crazy for Karaoke you can only imagine what kind of parties this bus has seen. Besides that, some drivers "entertain" us with late night Asian martial arts movies, in Korean of course, which they follow on a little screen next to the steering wheel. The passengers may enjoy the fight noises at 2 a.m. over this sound system. Who wants to sleep here anyway?
I have only seen the sensational gold from Austrian David Gleirscher in luge from the hotel in my self-imposed quarantine, but the Georg Fischler/Peter Penz silver and bronze of the whole Austrian team in the relay-competition is something I am able to see at the tracks. In Skeleton, the first ever female medal, let alone gold, for an Austrian was about to happen, but then Tyrolean Janine Flock unfortunately dropped down from first place to fourth in her last heat.
The Austrian ski-jumpers fail this time completely, but the fellow nordic combined athletes get two bronze medals. In biathlon it was "only" one bronze by Dominik Landertinger but more would have been possible. Outstanding from the Austrian point of view was Marcel Hirscher, who won two out of three possible gold medals, Anna Gasser with gold at the olympic premiere of the big air snowboard event and Matthias Mayer (gold in the Super-G). Austria finishes these Games with 5 gold, 3 silver and 6 bronze medals and reaches the tenth spot in the nations ranking. The 15th medal was nearly in the bag in the very last event of this Games: Teresa Stadlober, who was on course for a clear silver, runs a wrong turn in Pyeongchang. She would have been the first ever Austrian lady to medal in cross country at Olympic Games. She won't forget this mistake the rest of her life.
With the Games now over, I decide to spend a little more time exploring Korea, and the decision to stay after three weeks of work turns out to be wise. Three more days in Seoul show me what a fascinating city this is. The mix of modern architecture with the old culture and temples within this metropolis is breathtaking. This city is huge: 11 million inhabitants, making 25 million in the greater Seoul region.
The trip to the North Korean borer on day three is outstanding. The weather is grey and later even rainy, but it is fitting to the dull atmosphere in the demilitarized zone. A US soldier briefs us at a speed that even native speakers have trouble following. After that we enter a building which partly lies on North Korean ground as well as South Koean, taking only a few steps into the neighboring country. Outside, there is a bizarre scenario: Soldiers, half hidden behind a hut, half staring into the direction of North Korea, stand motionless  for many hours on end.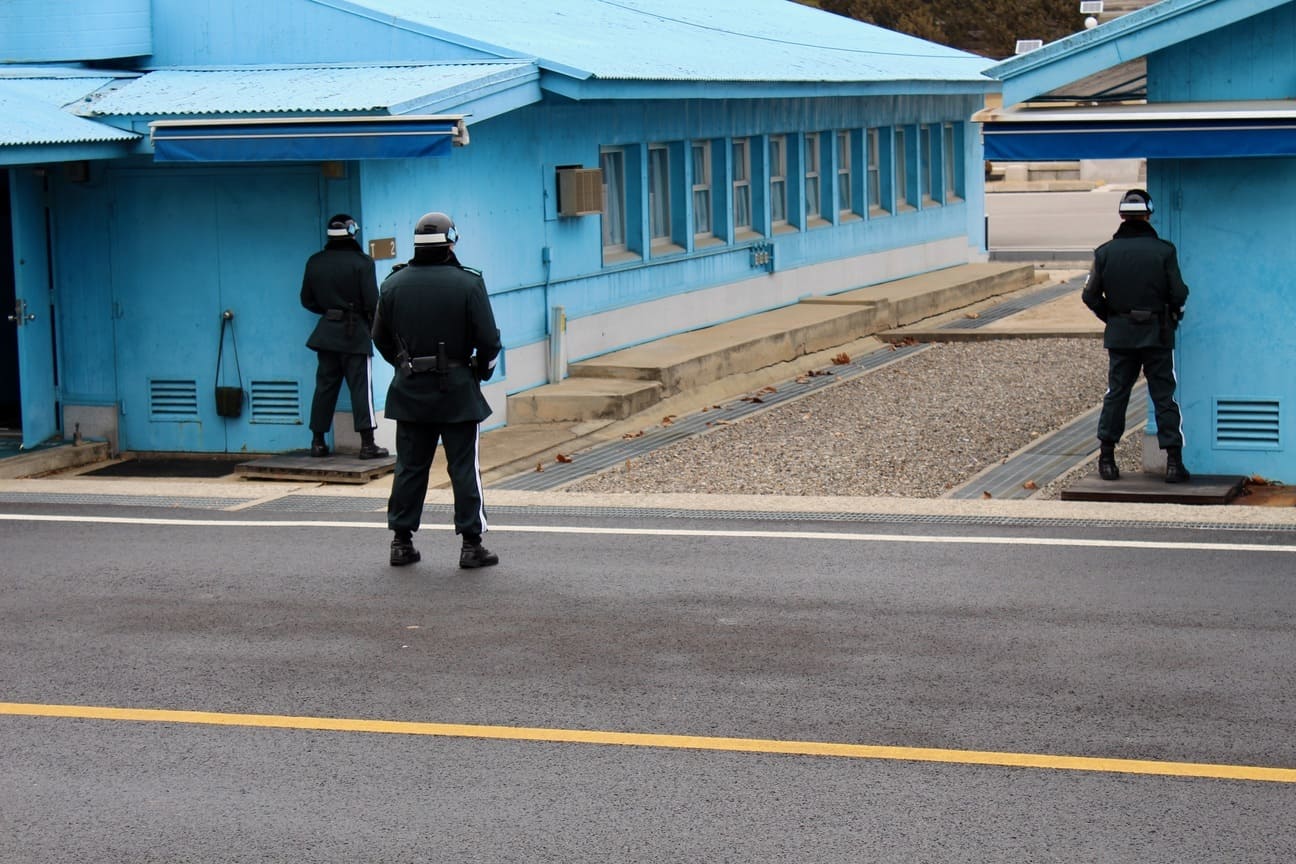 Maybe there is hope ahead and there will be an approach between this two countries. South Koreans see this with mixed emotions. Especially the elder ones have a stronger wish for reunification, the younger ones, it seems, have more fears of possible consequences. At another border checkpoint we look further into North Korea and in the farer distance we hear those loudspeakers. Sometimes music, sometimes speeches. A soldier has described it as propaganda. Sometimes, the guy tells us, they play it so loud, that he hears the noise in his room which is four kilometers away. The South Koreans answer this sometimes with loud K-pop-music. The modern South Korean pop is not liked at all in the North.
The circle somehow closes on the flight back home after three great days in Seoul. I meet a German steward on board who can't deny his Korean roots. He has experienced when the big wall came down in Berlin. A part of this wall, I tell him, has been built up at a "ghost train station" close to the border to North Korea. They built this train station as a as sign of hope and optimism. In case of the reunification the connection to the North is already there. I wonder if this man from Berlin one day may experience the fact, that also his second home country unifies from two split nations to one.
(text partly edited by Tristan Rogers, thanks!)
» Here are more pics from the Olympics, Seoul and even North Korea