About nordic experiences, acts of power and hidden reindeers
"Päädyin" – In the Finnish language it means "I landed". In other context a secure landing will play an important role within the next two weeks. Starting from the airport Helsinki it is around an hour drive to Lahti – heading northeast. This is my aim this time – the 51. Nordic World Championships are happening there – and for me it will be my ninth.
Around 120.000 people live in Lahti which has a long tradition in Nordic Skisport. The fight for gold, silver and bronze in Skijumping, Nordic Combined and Cross Country comes back to Lahti at the Vesijärvi lake right on time. Finland celebrates its 100 year anniversary this year: after the October revolution 1917 in Russia the country declared its independence. Long gone but not forgotten are the times, as the area was the Grand Duchy of the Russian Empire.
Lahti organizes the Championships already for the seventh time, but it was not always a very friendly place. I have experienced this myself 16 years ago: 2001 the temperatures reached up to minus 25 degrees Celsius (-13 F). They even had to cancel a cross country event. Several athletes suffered from frostbite. Another reason for inhospitable conditions may be due to strong winds. In the past several skijumping competitions have been delayed or cancelled.
But this year everything is different: Not one delay, the weather shows winter at its best. Okay – it is another story, that streets and sidewalks are not treated with road salt. Finns are bound very strictly to the rules in traffic – at least as pedestrians. Even if it is freezing cold and nowhere near or far you can see a car: the street is definitely ONLY crossed once the traffic light shows green.
Skijumpers would never break this rule either: only leave the starting bar on the hill, if you have a green light and you see your coach waving a flag. Otherwise the conditions are just too dangerous. The Austrian Stefan Kraft does nearly everything fantastic at these Championships – from the bar to the landing. 23 years old and from Salzburg, this guy reaches a new high and is now considered a new sporting great.
First he wins individual gold from the small hill and silver in the mixed competition, in week two he crowns himself also world champion from the big hill and delivers bronze with the team. Kraft writes a little sports history since he is the first Austrian ever two win individual gold from both hills.
The Nordic Combined section from Austria won bronze in the team competition. Former world champion Bernhard Gruber lead his young and promising team mates Mario Seidl, Philipp Orter und Paul Gerstgraser. In 2019 at the home world championships in Seefeld there could be expected even more. In Cross Country Austria did not expect any medals, but Teresa Stadlober showed her potential with two top ten results.
International topstars of Lahti 2019 are the German Johannes Rydzek (nordic combined) and Norwegian cross country legend Marit Björgen – both won four gold medals. 36 year old Björgen came back after a baby break and now has already 18 gold medals at world championships.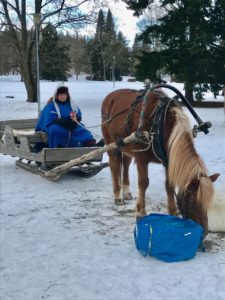 I did not see any reindeers or moose – at least not alive. Reindeer soup, meat, fur or little magnets made from deers antlers are available as well as the typical pullovers and knives with wooden grips. I buy such a small reindeer antlers magnet to put it on my fridge – it has become a little tradition to bring magnets from my trips.
And nope – I won't get a lover of the "Suomi" language anymore. The length of many words puts you in a state of shock, and it does not sound that beautiful either – sorry.
This may be the same for the Korean language. In February 2018 the Olympic Winter Games will be hosted by Pyeongchang in South Korea. By the way only 90 kilometres away from the border of North Korea. From there you may read the next report at the latest.