About missing roofs, security à la France and the birth of a super star
Paris 2016. My 13th French Open are ahead of me. The expectations of fans as well as journalists in Austria have risen. That is no surprise because Dominic Thiem has gotten stronger again since last year. He is now a Top 15 player and just has defended his title in Nice. Thiem came to Paris last year with this first title, now he travels to the Seine river as a six time ATP champion.
Paris 2016, also means we come to a Paris that has changed. Struck by the horrific terrorist attacks from November 13th of last year, ongoing threats of ISIS and the soccer European championships just a few weeks away, this leads to the fact that France as a whole is a high security zone. Since this awful Friday, the 13th the country is in a state of emergency. It has been prolonged because of the EURO and the Tour de France till the end of July.
Arriving at the airport Charles de Gaulle you don't realize anything. No additional security measures are in sight, when I arrive on May 21st. This changes drastically once I want to enter the tournament site Roland Garros in the west of the city at the Porte d'Auteuil. A double barrier, multiple security checks, strip searches – something I have to get used to in the next 14 days. It also makes me sad to see, that no one is trusted anymore on a site which is dedicated to a fair sport competition. After all these years of the 'joie de vivre' the ease has gone – at least at the entrance.
But of course I am also grateful for these checks and critical about it. Backbags are being checked only very superficially. And also spectators are allowed to bring those. This is a no go since years at the US Open for example. Later I will speak with the lady in charge for security in Roland Garros and she explains, that the French Open shall still be a fest for the family – a backbag with rain coats etc. are part of this. I do understand that this is a tightrope between 'Securité' and 'Liberté'. I would still have forbidden backbags.
Only six months after 9/11 I was at the Olympic Games 2002 in Salt Lake City. Then all the journalists had to turn on laptops and cameras at each check, no matter if there were minus 20 degrees Celsius or not. We were not even allowed to bring water. It was difficult, but everyone understood. Even if there were dogs especially trained to find explosives and soldiers with machine guns in Paris: Security wise the US is still miles ahead of France and/or Europe.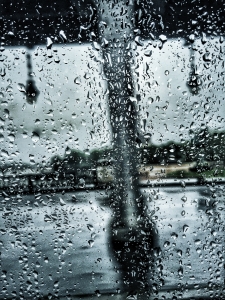 On the courts of Roland Garros the new Austrian top star Dominic Thiem outperforms all expectations. But the weather means trouble from the start of the tournament. While there are high tense elections for the president of Austria at home, it is raining in Paris. I am asked about Norbert Hofer from many sides, not only in the press centre. The chance that a right wing politician could be elected as the president in Austria as the first western country brings worldwide attention to my home country. As Alexander van der Bellen wins, the rain seems to stop in Paris. I go for dinner with a nice colleague and friend – a Thai restaurant we have discovered last year. We are sitting close to a French couple as the tables are always set very closely to each other in Paris. We start to talk and soon, we hear: "ah l'Autriche. C'est 'Ofer, oui?". (ah Austria, it's all about Hofer, right?"). We tell them, that Hofer has not won the elections.
Thiem wins the first two rounds with a little trouble at the start and then also round three in the so-called battle of the future generation against even younger German Alexander Zverev. Thiem qualifies the first time for the round 16. Ahead of this match everyone knew the winner of this will not have to face Rafael Nadal. The nine time record winner of this tournament had to pull out because of an injury. Marcel Granollers was the much easier hurdle, and Thiem uses his chance. He moves into his first quarters at a Grand Slam. The rain comes back again and postpones the matches. The call for the still missing roof at the Center Court is getting louder and louder again. But there will be no roof before 2020, and I even doubt it will be there then.
In the meantime I had a nice encounter of a special kind. Tennis legend John McEnroe has a short look at the training of Dominic and wishes him well. I introduce myself, ask for a very short interview, but "bigmac" denies – he has to go to the training himself (for the legends competition). So there is only a shakehands with the still cool New Yorker – even with 57.
Thiem continues his rise on Thursday against his feared opponent David Goffin. There is a lot at stake: not only a sensational semifinal, but also both players can reach the top ten the first time. Thiem wins, a little lucky in the second set, in four sets. Austria has a top ten player again from June 6th on, Thiem will even rise to number 7. The semifinal has to played already the next day because of the rain delays. Against the world best player Novak Djokovic Thiem does not have his best day and looses clearly in three sets.
The Austrian still may look back with pride. He is only the third Austrian after Thomas Muster and Jürgen Melzer, who made it in the last four of a major. And there is no one left in the tennis scene, who doesn't believe that the "prince of clay" from Lichtenwörth has a very bright future.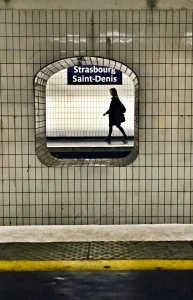 Day 15, time to leave Paris. The river Seine is extremely flooded, in addition some metro-lines are on strike. I hope, Paris will be much friendlier again in 2017. Shortly before I enter the plane I read, that boxing and sports legend Muhammad Ali has died. There is no world with only good news, but whom am I telling that? Salut and à bientôt!