Austria has a young tennis-star again, who really creates big hopes for a great future. Dominic Thiem came with two tournament wins in a row (Umag and Gstaad) to the Generali Open to Kitzbühel and with only 21 years of age he was seeded as number one for the first time at an ATP tournament. It was shown, that the strain of the last weeks took its toll. After a bye in round one the encounter with fellow Austrian Andreas Haider-Maurer was a close call. In the quarterfinal he benefited from an injury of Albert Montanes in the second set. After ten wins in a row Thiems run was ended in the semifinal: Philipp Kohlschreiber, who moved on to win his first season title and his first in his new hometown Kitzbühel, was too strong for Thiem on this day.
And there were three more Austrians in the round 16: the promising Dennis Novak, who is as young as Thiem, Haider-Maurer, who nearly has beaten Thiem, and Jürgen Melzer who is in the autumn of his career.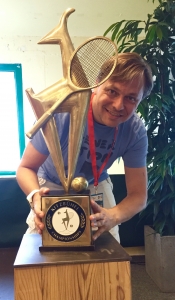 It was the first time since a few years I was in Kitzbühel for this tournament and I am asked to do an interview for the ATP. For their background-television magazine "ATP Uncovered" which follows the tour around the world. It was a real "hot-seat"-experience: dark room, two chairs, a mic on my chest and a glaring spotlight on me. Two statements were taken from a ten minute interview – but that is how it works with television, right?
Watch it here:
There was a little leisure time left before noon at times and so I did two trips into the great surrounding mountains: One to the world famous Hahnenkamm (were they have the most dangerous ski downhill race each year) and one to the "Zweitausender" (a mountain with exactly 2.000 metre altitude) at the Panoramabahn. Thanks to Helmut Fohringer, a very nice colleague and wonderful photographer, I got a few more pics for the "Seasons" section.
At the end of the tournament it was clear, that Dominic will appear the first time ever in the top 20 of the ATP ranking. Now he starts his US hardcourt season with the highlight at the US Open. I will be there too…