About gondola rides, interviews far after midnight or the Kasai-mania
Salt Lake City, Turin, Vancouver – and now Russia. The expectations for my fourth Olympic Winter Games have not been too high. Already months ahead of the Games there were a lot of negative issues in connection with this sport-event. The anti-gay-law, human rights abuse as well as dispossessions in Sochi did not make it easy to look forward to it. And of course there was this terror threat and maximum security measures because of it. First reports of colleagues who arrived early have not been inviting either. Media hotels which are not ready yet, and lots of accommodation problems lead to a "shit-storm" via twitter. Not the best starting position for 22 days of work, that's for sure.
"Floating" to the hotel
But for all those, who lived in the media mountain village on top of Krasnaya Polyana, there was not much to complain. Well, you had to take the gondola to reach the hotel each day to reach your resort in 960 metres altitude – a daily 8-minute-ride – and they said it would work 24/7. That was not true all the time and if the person in charge wanted to have a break – they took it. One late evening I had to fight for my right to get to my bed. Only after a call from my hotel he restarted the gondola again.
After all it was kind of charming to see the little mountain village grow. One night there was suddenly a new illuminated advertising of "Swissotel". About ten days later a Pizzeria opened and even the TV in my room worked after a week. Getting closer to the end there were around 50 identical pics in the hotel corridor. Two days later one of them hung in my room.
Next information: the hotel pool has opened. I never saw it, there was no time for this. But the people were indeed very friendly – authentic and honest. That made up for some troubles.
Krasnaya Polyana was more like a setting or looked like some designer outlet in eastern Austria called Parndorf. The real Krasnaya Polyana, aside of the pompous buildings? I only saw it from the distance.
If you are used to security checks from flight trips the checks at the Olympics have been bearable – and less intensely than twelve years ago in Salt Lake City. At that time 9/11 only had just happened six months before and we even had to boot up our laptops to demonstrate it is not something else. Temperatures of minus 20 degrees Celsius did not hinder security to ask for that. In Russia the only new thing was that media busses have been sealed and each accreditation was scanned before you changed to the new location.
Visit in the Olympic village and a threatening letter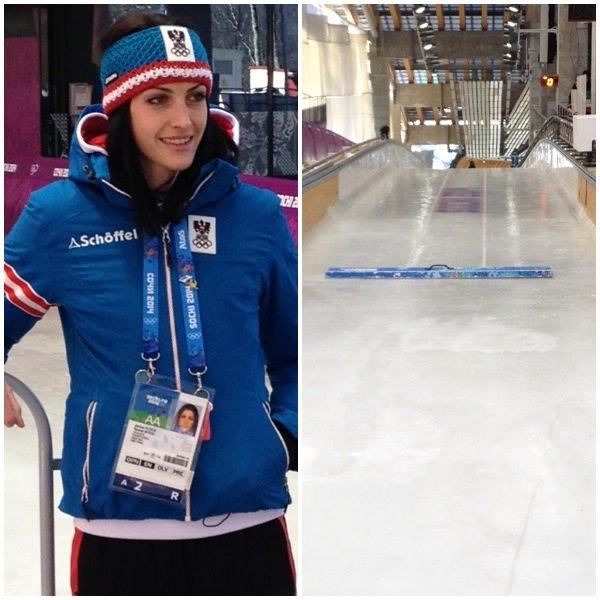 My only trip to Sochi itself was already planned for day two, the rest of this trip is spent in the mountains. Visit of the Olympic village and get some impressions of the Austrians who have their events in the coastal cluster. But as soon as I am ready there I get a call: There was a threatening letter against two Austrian female athletes, Janine Flock is one of them and she arrives together with others soon in Sochi. The atmosphere at the airport is even more hectically than usual, but the athlete is protected and does not speak to media. The next day I get my chance to speak with her exclusively at the skeleton track. She seems calm and cool and tries to focus on her sport – she is a medal hope for Austria.
177 steps to "heaven"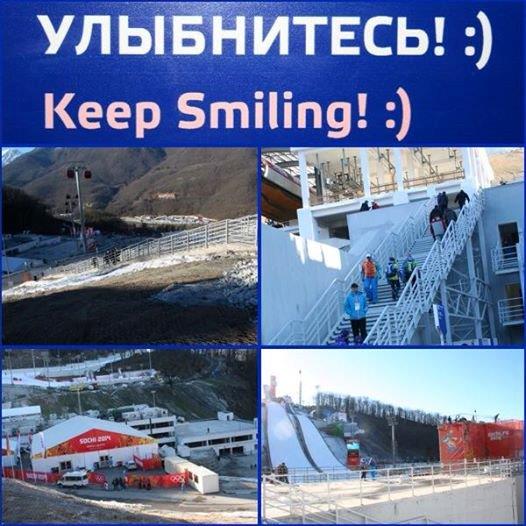 The ski jumping and Nordic combined competitions take place in the RusSki Gorki Jumping Center. The cross-country track is built mercilessly into the mountain and the surroundings of the jumping-hills have to be supported because they have slidden in the past. The look at the press center in a tent is not very welcoming: It is not where you are supposed to do your interviews – no, it is 177 steps further down. This meant up to 1.062 steps a day.
The record: 2:04 a.m. departure from the site
Regarding European fans the competitions only start at 9.30 p.m. local time – meaning 6.30 p.m. in central Europe. Neither for the athletes nor for the fans was this a pleasure. And of course not for journalists either. After his first comeback-training Thomas Morgenstern left the mixed-zone at 11.45 p.m. – and this was only the start. My personal record was set on February 15th after the competition from the big hill. My work was done at 1.32 – and Austria had not even won a medal. The small shuttles are too rare at this time of the night. I leave the stadium at 2:04 – 12 minutes transfer to the big press center, 10 minutes' walk, 8 minutes with the gondola and another 5 minutes' walk to the hotel: arriving in the lobby at 2:39 a.m. And of course it is impossible to sleep immediately.
Kasai-mania and a "lost-in-translation"-Feeling
Of course there were funny moments too: my personal highlight I experience at a ski jumping training. A Japanese TV-crew wants an interview with me. Topic: Noriaki Kasai. "Do you know how old Noriaki Kasai is?", the colleague asks me with a smile and a lovely accent. "Yes, 41", I answer. "And how old are you?", he surprises me – but only for a short time: "Much younger as you can see", I joke and the guy at the 'mike' breaks out in a roar of laughter. "Please describe Noriaki Kasai in one word", he asks me later. My answer: "I have three words for you: Olympic champion 2014". I told him what he wanted to hear. The next roar of laughter.
The interview was a bull's eye for him – maybe he told someone about it. In the following two days I have further interviews for two other Japanese TV-channels. And my prediction nearly became true. Kasai misses gold on the big hill only by ridiculously 1,3 points and gets silver. Later he picks up bronze in the team-competition.
Olympic spirit in the Austria-house
Location Austria-house, late Tuesday evening. The Austrian ski jumpers Gregor Schlierenzauer, Thomas Morgenstern, Thomas Diethart and Michael Hayböck celebrate their silver medal and suddenly all the other medal winners from Germany and Japan arrive in the house. They all have just gotten their medals one day after the late competition.
The Olympic champions from Germany loved it in the Austrian house and have celebrated their gold also the night before with their archrivals in the "nest" of the Austrian "eagles".
The Japanese also celebrated their bronze and their "oldie" Noriaki Kasai. Since I was such a "successful" Interview partner for Japanese TV I had to get Noriaki with his two medals for a pic.
A few days later the particularly friendly Nordic combined team from Austria celebrates their team-bronze in a unique way – Bernhard Gruber shows his skills as a musician on the guitar:
Dispensable closure of a nice sports event – doping
After working through for three weeks and one of the most successful days in Austrian Olympic history (5 medals on the last Saturday) everyone is exhausted and you just want to let fade. A few reviews and statistics and then – at least that is the plan – you finally come down from the mountain to watch the Olympic ice hockey-final Canada vs. Sweden. I have a ticket for this high demand event. But I will not be able to use it. At 6 a.m. we get the information that Johannes Dürr, an Austrian cross-country-athlete, has used forbidden substances. One word you do not want to hear during an event like this: doping! There is a short notice called press conference at 9 a.m. and then I need to work through. There goes my ticket for ice hockey – but that's our Job.
A farewell lunch, luggage problems and of course – a cold
Monday noon – you nearly don't dare to loosen up your tightness from the past weeks. The games are over, a nice lunch with colleagues celebrates the work being done. Check-in at the airport and waiting. As we sit in the plane already we hear that only two (!) people are there to load all the luggage of this charter flight. We sit 1:45 hours before the plane finally takes off. But after only one hour I can feel it already – the unavoidable cold hits me.

[/fusion_builder_column][/fusion_builder_row][/fusion_builder_container]